 Michigan Works! Southeast's eLearning Connector Enables the Workforce to Be Future-Ready
Shamar Herron is the Executive Director of Michigan Works! Southeast and Misty Shulters is their Deputy Director. Learn about the launch of eLearning Connector, Michigan Works! Southeast's scalable, turnkey learning platform. Built by Amesite, eLearning Connector creates learning opportunities that play an integral role in upskilling employees, enabling them to train Michigan's workforce expertly.
Michigan Works! Southeast
Founded in 1987, Michigan Works! Southeast is a longtime leader in upskilling the workforces of  Southeast Michigan, fostering training for both employers and workers. Michigan Works! Southeast is the hub of talent development and works tirelessly to respond to the unique needs of the communities it serves.  

Michigan Works! Southeast is part of a sixteen-agency system. The Michigan Works! Association is a critical collective that "influences, educates and inspires actions that keep Michigan working." The members of the association offer training, education, business development, and access to employment opportunities.

In 2020, Michigan Works! Southeast served nearly 18,000 community members in Hillsdale, Jackson, Lenawee, Livingston, and Washtenaw Counties through one-on-one career guidance, upskilling job seekers for current labor trends, and much more. During the last year, Michigan Works! SE recognized the urgent need for workforce training. This need was seen internally within Michigan Works! SE and externally in the local communities they serve.  
Their Challenge?
How can Michigan Works! SE better equip their frontline staff with additional training to address the educational and skill needs of the workforce, including individuals with barriers to employment and the employment needs of employers?
The Answer?
Michigan Works! SE partnered with Amesite. They recognized that to fulfill their mission of closing the skill and labor gap in this digital era, they must be at the forefront of workforce development and digital fluency themselves. 
Creating a New Environment for Learning at Michigan Works! SE
Together, Michigan Works! SE and Amesite are providing state-of-the-art workforce training to team members, ensuring that the Michigan Works! SE team is equipped to handle the challenges of the rapid digitalization of work.

Following a competitive bidding process won by Amesite, the company delivered a new Learning Community Environment™ (LCE™), the Michigan Works! SE eLearning Connector. This LCE™ uniquely meets their needs for an engaging, powerful upskilling tool, helping Michigan Works! SE confidently deliver learning experiences that enable the workforce of Southeast Michigan to thrive.

Shamar Herron, Executive Director for Michigan Works! Southeast says, "Workforce upskilling and reskilling is needed more urgently now than ever, given the evolution of the work world. We chose Amesite to support our own workforce in their professional development journey because we believe in the power of their platform to support the engagement, and ultimately the success of our teams. In fact, our careful review of their offerings revealed that their platform is more comprehensive and easier to use and implement than other ed-tech solutions we considered."

Michigan Works! SE is dedicated to serving its local community and improving the workforce of Michigan at large. Shamar Herron reinforces this message saying, "At Michigan Works! SE, our mission is to develop today's workforce and tomorrow's economy. We serve a labor force of over 437,000 people, and in the last year, we filled nearly 2,300 jobs in our region. We continuously seek ways to innovate in training and to advance our state's economy, knowing that we're not just competing with other states – we're competing globally. We partnered with Amesite to do exactly that. Our partnership enables us to provide state-of-the-art professional development and training using the best available technology in the industry. We are excited about what we will do together – creating connections to a better future for businesses, for job seekers, and their families." 
About Michigan Works! Southeast
Michigan Works! SE is on the frontlines of workforce development, meeting the talent demands of local employers and responding to the unique needs of the communities in Southeast Michigan.



Industry: Workforce Development

Company Size:

 51 - 200



Location:

Michigan



Software:

Government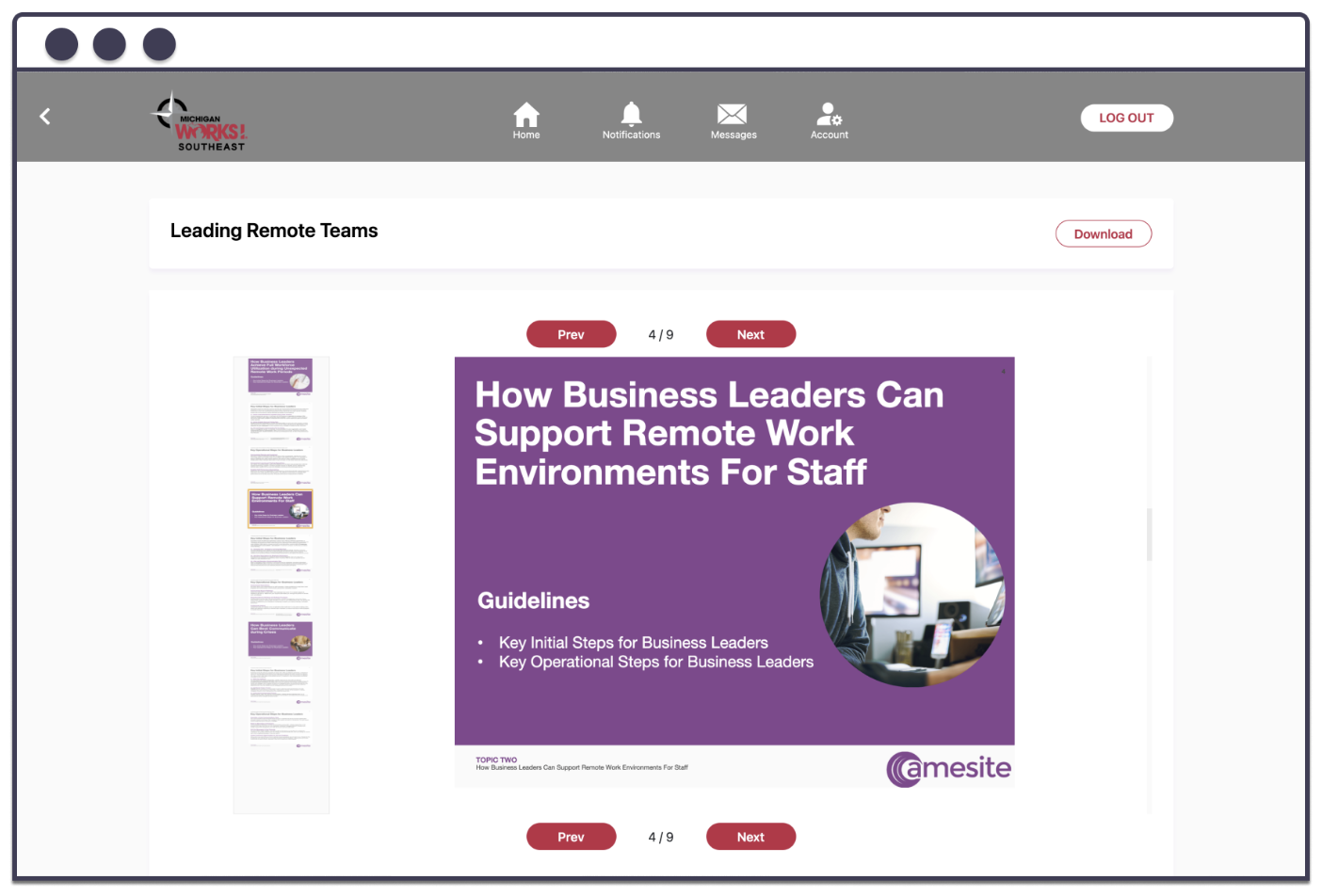 Meeting Talent Demands of Southeast Michigan
By 2022, 54% of all employees will need upskilling. Employees tasked to develop the workforce, like those at Michigan Works! SE, are not exempt from this need! As a forward-thinking agency, Michigan Works! SE is taking an innovative leadership position to deliver workforce training programs to its employees that enable them to upskill others.

This internal initiative empowers their employees to adeptly handle the skyrocketing demand at their agency in response to the greatest economic crisis since the Great Depression. In 2020, Michigan Works! SE faced unprecedented demands from their communities, receiving over 50,000 visitors, serving over 18,000 employees and 900 employers. As unemployment benefits end, a subsequent spike in demand is expected. The challenges experienced by employees over the last year are now being proactively addressed with training to ensure the needs of the local communities are met with ease.

"We work every day to close the skills gaps in our region – bringing people to skill levels that enable them to get good jobs. As a workforce development agency, we recognize the need for lifelong learning, not only in our community but also within our own organizations. To effectively achieve our mission of preparing the workforce for the future, our own workforce must be ready to foster and sustain a strong, diverse economy where people live, work, and prosper. Our partnership with Amesite is crucial to our mission," says Misty Shulters, Deputy Director of Michigan Works! SE. "With the advanced workforce training platform they created for us, we are training our employees to better serve the needs of our regional businesses and job seekers."
eLearning Connector: Built for Workforce Training Success
Michigan Works! SE is committed to excellence in upskilling its local workforce. Their own training platform is no exception to this standard. Michigan Works! SE eLearning Connector utilizes engaging experiences like video chat, in-platform messaging, and discussion feeds that enable learners to interact and enhance the learning experience. Dialogue on the platform creates an opportunity for leadership to support and be responsive to employees' learning needs along the learning journey.

The courses bring the organization the skills they vitally need to meet the talent demand of the local workforce. They also open channels of communication among leadership and employees to enable Michigan Works! SE to move faster and with greater purpose when upskilling the community.

Michigan Works! SE has identified the areas where training is needed to help their staff excel at their jobs. This includes soft and hard skills. Soft skills are often not pursued in workforce training, even though 97% of employers say that soft skills are either as important or more important than hard skills.

The online workforce development courses which Michigan Works! SE is currently training with include:
     · Time Management
     · Building Successful Client Relationships
     · Office Operational Tools
     · Leadership Essentials
     · HR Practices in the Workplace
     · Talent Management
The team at Michigan Works! SE is redoubling their efforts to get Michigan working again. Partnering to upskill their workforce is the best place to start and has an immense impact on mission execution.

Partnering for Mission Fulfillment
Michigan Works! SE's mission is to develop today's workforce and tomorrow's economy by engaging employers, jobseekers, and partners. Mission fulfillment starts at home with an innovative partnership that educates their employees to enable continuous improvement and accountability and the ability to become responsive to the needs of their local communities. Their strategic partnership with Amesite is aligned with their mission and values.

Shamar Herron says, "We are excited for this partnership and believe wholeheartedly that a SaaS company with industry-leading technology such as Amesite is the best fit that ties into our organization's value of lifelong learning, leading to the development of a sustainable workforce."

The Michigan Works! SE and Amesite partnership demonstrates that an engaging, state-of-the-art training platform enables mission fulfillment and excellence in developing a skilled workforce through education, innovation, and collaboration on every level in the communities served.

Amesite CEO and Founder Dr. Ann Marie Sastry comments on the partnership, saying, "Government workforce development agencies have a profound responsibility for upskilling the nation's workforce, to keep us competitive internationally. These agencies serve a US labor force of 161.5 million people across 50 states, who power the world's largest economy. Michigan Works! SE is one of these important agencies. Over the last year, they served over 500 businesses in their local community. We are thrilled to launch their learning platform, the Michigan Works! SE eLearning Connector, to upskill their teams and, ultimately, the businesses and job seekers they serve.

"Amesite is moving strongly to partner with as many of these agencies as possible, across the nation, with 84% of Governors agreeing that workforce development is a top priority. By partnering with them, Amesite is able to meet the needs of businesses and job seekers nationwide, using advanced systems customized to their specific needs. We thank Michigan Works! SE for their commitment to their employees and their partnership with us so that we can make an impact together."